Signing up to the internet
How do I get connected?
On the bottom of your router, you will see the sticket on the right. On your device's wireless settings, search for the SSID (network name), select and enter the WPA2 key when prompted.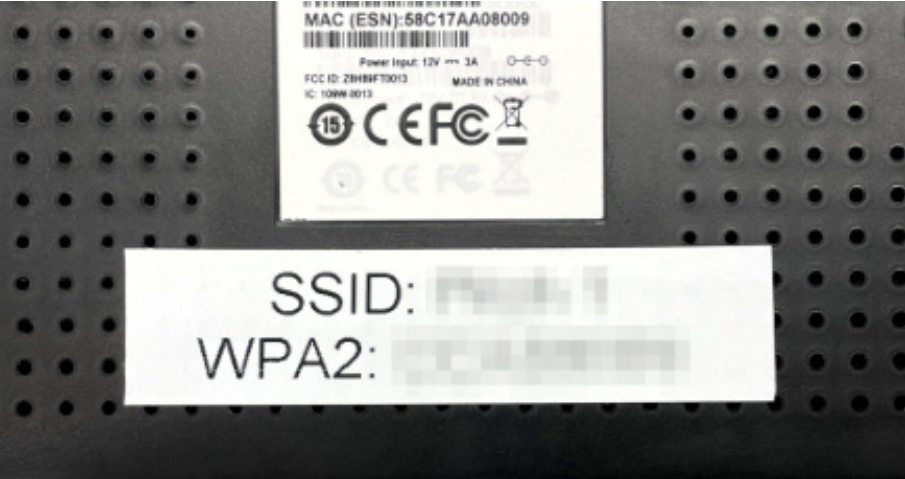 How do I sign up?
If you have not signed up you will be presented with the login page shown on the right. You can sign up by clicking "Sign Up Now!" on the bottom right of that page. If you do not see this page you can access it by going to www.wifi-login.co.uk

How do I manage my account?
You can manage your account by visiting portal.campmingconnect.co.uk. Login in using the details you provided during the sign-up process. From there, you can manage your account, change your billing details and much more.

Having issues connecting?
If you experience any issues connecting to the internet, please follow these simple troubleshooting steps to help get you back online.
Is your router receiving power?
Checking the power light on the front of your router to ensure that this is lit. If not, complete the following steps:
Check the power switch on the router, making sure this is switched on.
Checking the power cable making sure it is plugged into the router.
Check the power lead making sure it is plugged into the wall and switched on.
Is there an internet connection?
Look at the front of the router for the WAN light (next to the power light ) to check that it is lit or flickering. If not, follow the steps below:
Check the network cable coming out of the wall network socket making sur this is firmly plugged in.
Follow the cable back to your router, as the network cable must be plugged into the WAN port of the router (see diagram A below).
In some cases, there may be a power injector (POE) installed which powers the external antenna fixed to the outside. In this case, ensure the LAN port on the POE injector is connected to the WAN port on the router.
Next ensure the POE port on the POE injector is connect to the network socket on the wall outlet (see diagram B below)

Restart the router
If the above steps do not resolve the problem, often restarting the router can refresh the connection, getting you back online.
Please do NOT factory reset the router using a pinhole reset unless directly instructed by Camping Connect.
Instead, simply unplugging the power to the router – leaving it for 5 seconds, and then plugging it back in will be sufficient for a router restart.